Much to my surprise last night when I came down my road was the semi and trailer that hauled the equipment to start moving dirt. What a welcome sight that was. This morning while I watched them escavate, I thought about in my 55 years of life on this earth, this is the first time that I will have watched a building that I will "live" and enjoy time in be built brand new. I love the old but there is definitely a shiver of excitement knowing that I will also get to experience a brand new building during my lifetime!! Without a doubt tho, there will be some "old" wood that makes it way inside to keep me feeling comfortable!!


I felt compelled to blog today and decided that I needed to follow that nudge from up above as I believe he deserves credit for my feelings of happiness and gratitude today. One year ago today I faced the most fearful day of my life thus far. I lost the use of my hand and today as I sewed, packed patterns, traced pattern templates, got dressed, etc. I thought about how very thankful I am for where I am at today!! FAITH OVER FEAR - a phrase that I hope to continue to live out the rest of my life and I can tell you it works - I lived it!! I am going to celebrate tomorrow eating and shopping and laughing with two very special ladies!!


Not much to share for projects - these two projects were from our Little Red Hen Bus trip and are now available for purchase. Lacey and I each did our own version of the embroidered Little Red Hen. Lacey finished hers off for all you hexie lovers out there with hexagons and glued it to a wooden board for her background.....
I finished mine off with a candy pack and a little additional yardage for a wall hanging....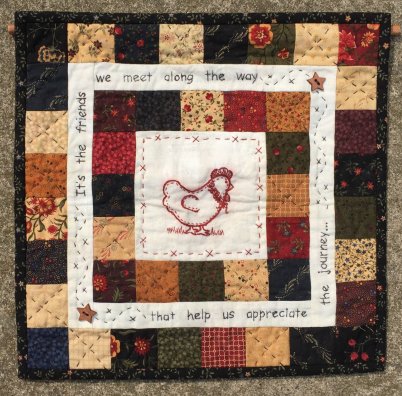 We will have more show and tell as we continue to post in the days ahead. There are lots of new projects in the finishing stages that we will share with you before we leave for cheese country in a couple of weeks.


Shalom ~ Darci