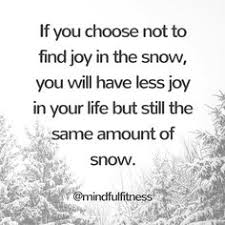 I seen this quote on facebook a couple of nights ago and felt it was worth sharing. It kind of sums things up as there are many times we are dealt things in life we do not like. Often they are minor issues but they sometimes cause us great anxiety. Once again news of someone passing on to a far greater place than we know here on this earth rocked our area. The death of a young person with so much life ahead of him yet. When I hear people talk about him they always have the same common thread in their description of him - he was always smiling which made those around him happy as well. He was a person who lived life the way I believe it should be - trying to take the "negative" things in life and finding positive in them while making those around feel joy as well. What a great way to be remembered!! So when I read this quote - thought about the hum drum way I felt when the snow has been falling too early in my opinion, it rang some truth out!! So tonight as the snow falls, I will find joy in it!!!


I just cut out a project to start stitching on which will be found on the website as a free download upon completion so I am not going to blog much tonight but rather find my needle, thread, a quilt, and finish up watching the MN Wild game.


One of the latest winter projects I finished putting together. Kits will be available next week for order off the website.
This is a hexagon shaped wool background with wool applique and fastened to a wooden snowflake. I had a lot of fun with this and have been intrigued to do some "finishing" on wood backgrounds!! The building is progressing along - the steel will be here tomorrow. I am eager for the next steps to happen as it is becoming easier to envision the end result. The reality of the matter is that we won't be in there until spring, but the winter will be a good time to be "finishing" the new creative space. I already know I am going to LOVE my corner with the windows as there is nothing better than sewing/creating with natural light!!


It looks bigger again now. It is funny how it looks like it is going to be small and then something changes and it looks like it is bigger - at any rate it is better than the space we occupy now!! Daisy has learned where the door is as she is pretty sure that she will be hanging out with us once we have moved in!! Speaking of dogs, I want to introduce you to Lacey's best friend - Millie!! She is a keeper and has become a member of our family quite quickly - even the other dogs have adapted well to her. Daisy has a new playmate.
Now off to stitch!!


Shalom~Darci