God grant me the serenity to accept another snowstorm


The courage to drive in the snow and the wisdom to know when to stay home...


Well I started this blog post last Sunday during the snowstorm and never got it finished - the photo below is our driveway which looks like many driveways you see along the countryside. It truly is an old fashioned winter - one of which is probably more normal of MN during my childhood years. We have reminisced this week about riding school bus and the kids getting out to push when the bus was stuck which could NEVER happen in this day and age we live in!! I don't know how they ever found people to drive bus back then or today for that matter. Hats off to those men and women who take the responsibility upon their shoulders.


As the wind blows and the snow continues to pile up, we know that spring will come and it means that we will be moving into our new shop at some point in the nearing future!



Much to my disgust, I have had to cancel the first quilt show engagement of 2019. I appreciate the understanding shown from Susan when I called to tell her that we just couldn't make it. The trailer was buried in a snow bank and with the cold and no heat in the trailer, there is just NO way we can prepare for a quilt show. We hope that we will have an invite back the quilt show in 2021 as we were excited to get back out on the road and connect with quilters. If you are not aware, the Prairie Quilters 2019 quilt show will be held at Holy Trinity Lutheran Church on Friday March 8th and Saturday, March 9th. It is the perfect time for a quilt show as we are all ready to turn the page on the winter season and start planning for our 2019 projects!!


So, while we practice patience for the new work space I want to share what we have been busy with. Those of you who know me know that I don't like white in regards to my work. If it is white or "too light" it must find a tea/coffee stain to help it look aged and old. So, as we are deciding the new work interior, the gabled area of the interior was going to be wood. Oh what color?? I don't want it to be the same as what I had in Clara City as it is a new space so with grey and distressed white barn wood being popular my thoughts are that that will be my new color scheme. Off to Menards to pick up stain to make our new wood look old - we bought black, grey, cottage white and weathered grey. As soon as I got home we stained up some wood only to find that we liked black the best, but were afraid that would be way too dark. So..on to the internet to see how to make new pine boards look like old weathered wood. Much to my surprise I read that soaking steel wool in vinegar will give wood a grey aged look and if you want it more distressed looking tea or coffee works well. I brewed up a batch of black tea as well as a batch of vinegar/steel wool and watched the magic begin. It was the perfect stain. It is SO much fun to work with as you are not sure what your wood will look like when it is done. Different woods take the mixture differently so it is lots of fun to experiment with.



The above photo is our wood without any stain on it.


This is the wood starting to turn following the application of vinegar/steel wool.


The next photo is the coffee/tea mixture over the vinegar/steel wool mixture

The photo below shows the boards with both mixtures. Each board has a different coloration which gives it lots of character.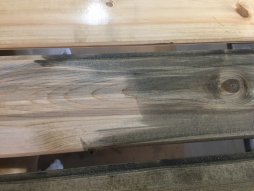 The next picture shows the boards with sealer applied - they darken a bit. Unfortunately the photo doesn't really do justice to the color of the wood. They seem to grey up a bit more as they dry. Who would have thought!! I had never heard of this before but it just seemed perfect as I have tea/coffee stained fabric for years and now the shop walls will have that same story to tell!!



The gable end on one wall is almost complete - i can't wait to climb up the ladder and hang up some wool on the wall - it will be the perfect area to display our wool work and our mini charm quilts!! Our hexie works are going to get a lighter wall area for their home. The sheet rock is going on so the shop is once again starting to take shape and changing once again. I can already feel the creativity that will make its new home shortly!!



So, we have been doing a little sewing - Lacey did a facebook post yesterday with the newest projects. Our goal is to have the trailer unloaded into the new space by the end of the month as we have our next quilt show scheduled for April 13th in Willmar. We need to get the concrete stained/sealed which should happen next week. Please keep our plumber in your prayers as he is going thru testing for severe headaches that have him out of working commission. Our bathroom area is also getting it walls but we there is no plumbing there yet. The walls are the distressed white barnwood and we are thinking the lower area will be old galvanized metal. My husband has the same vision usually with that type of stuff and knows my tastes pretty well. Our bathroom ceiling will be repurposed wood from the chicken coop that originally sat in our new buildings spot. It is fun to be able to incorporate that into this new building!! We decided on a wood wall up by the sewing area so slowly that wood look that we didn't think we would do is sneaking into the space. I have decided that it must be my love for barns that carries over. It is one of my favorite buildings to be in so I guess it is only natural that my creative space has that same kind of atmosphere. I realize that the new barns of today are constructed of steel and our buliding is as well. That good old homey feeling tho comes from wood and I am going to be very happy that it will once again surround me here in this new space. Shalom~Darci