Last evening, sitting in the light of the Christmas tree beside me, with a sleeping little boy on my lap, I opened up my Christmas devotional. It always amazes me how many times the words on those pages speak to the heart and the events of the day.

"Do not be weighed down by the clutter in your life, lots of little chores to do sometime, in no particular order. If you focus too much on trying to get them all out of the way you will discover that they are endless. They can eat up as much time as you devote to them. Choose the ones that need to be done today, let the rest slip into the background of your mind."

Now to be honest, this is a conversation that takes place frequently in this household, especially after having a kid. I get told that advice A LOT. And I never seem to take it, I mean I am a woman and we take a lot of pride in our ability to multitask and keep on top of everything, right?! This stubborn quilter would rather sneak out of bed to finish a cleaning task than admit defeat. And yet last night, something changed.

In the light of the Christmas tree, with a sleeping boy on my lap, I reflected on the last few weeks. And then I did something I never thought I would do. I decided to take the advice I've been given my whole life, and the advice from the words on that page. Especially considering one of the most important holidays to me takes place this weekend. And amidst the chaos Christmas can bring, I am choosing to simply let that go and embrace the wonderful world that is around me. And much like I felt at Thanksgiving, be extra grateful to celebrate with family.




I sat and smiled as I looked around our house at what I used to think was chaos.

The neon green parts of what was to be the new "indestructible" ball for Millie laying all over the floor.
The super glue bottle sitting by Joseph in the nativity because I tipped him over and broke his arm...four weeks ago.
A naked looking Christmas Tree... because I had good intentions of buying more balls.
The holiday table runner that still needs to have the binding tacked down adorning my table.
Visible mouse traps on the floor...even though we caught it
Debris on the floor from trips outside and dog treats that weren't quite cleaned up
There's books and toys laying out on the floor by where I sat and played an hour ago.
A big bird poop streak on the window I meant to clean when it was so warm outside.
And hey, we live on a well traveled gravel road to the lake...I'm sure I have dust. and I haven't vacuumed in two weeks.

And while there was a day I would have insisted that all be hidden, clean and done, the advice of the book seemed true. That list could go on and on and on and on. I would never get done. So, I chose to pick up the neon green ball parts and call it a night. And today, there wasn't a single item on that list I chose to do.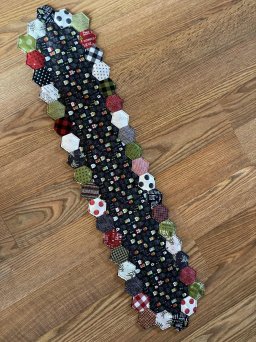 Today I chose to finish this table runner.
A table runner that was "almost done" before Mason was born. . .10 weeks ago.
A table runner that was "supposed" to be a sew along starting the day after Thanksgiving.
A table runner that was supposed to have appliqued trees in the center. But hey, I have done my share of hosting guests and in the midst of turning my sewing room into a makeshift guest room I lost the tree. And unlike the past, today I chose to not care they were absent. Someday, it'll have the trees, but for today I am just savoring the accomplishment of the project. And passing the joy on to you.




While I love and insist on LOTS of holiday goodies and baking, I chose to cut back that list.
I also chose to wrap up my sugar cookie dough and pop it in the freezer. Yep after 3 days it's supposed to be frozen and someday, we will have those rolled out cookies. They will likely be frosted with colored frosting and sprinkles, but today, I heard the freezer was calling their name. And ok, maybe a container in the fridge to eat. Just because they aren't baked doesn't mean I can't eat the dough. (For the record, I did attempt rolling yesterday, I got 6 cookies before I had a sticky mess on the counter and kid who was sick of watching me struggle)

Instead, I have immensely enjoyed the dough Mason and I made this weekend. Salt dough. Salt dough for reindeer ornaments to honor his first Christmas, and how little his feet were this year. The fond memory I will cherish of watching his face as he stepped into the cold rolled out dough. The smiles we shared. The funny failed attempts we redid. And the finished result that I just love. It's moments like those that make putting cookie dough into the freezer easy. Spending time and making memories with him are more worthwhile. And someday soon, he and I will make those cookies together. Laughing at spilled sprinkles and too much frosting on the cookies, just like I did with my mom.

I truly hope that you all find the peace that "letting go" can bring. It's not easy, especially with the demands the world places on us and the chaos that surrounds us, but with help from above and around it can feel pretty amazing. And those demands really do just fade into the background, and what matters in life stays in focus.

Peace and blessings to you this holiday season.
Much love,
Weezer